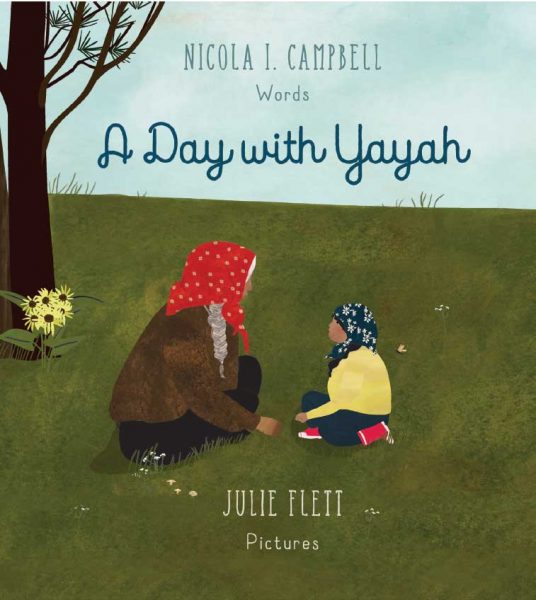 About the Book
A First Nations family goes out to forage for edibles in the woods. Grandmother passes down her knowledge of plant life. This picture book is set in the Nicola Valley, British Columbia.
Praise for A Day with Yayah:
"A sparkling spring day with a rainbow-arced sky finds Nikki, Jamesie, and Lenny harvesting wild potatoes, rhubarb, celery, and lightning mushrooms with their grandmother Yayah. Though it sounds like a frolicsome field trip, their day is much more than that. Every day, Yayah teaches the children two new words in Nlaka'pamux, the language of the indigenous people of the Nicola Valley in British Columbia. Nlaka'pamux, Campbell explains, is an endangered language, making the story all the more significant. Yayah teaches the new words in context and emphasizes the importance of pronunciation. Then readers, like the children, must make sure to articulate subsequent word uses correctly. Although a little pedantic, this cheerful story of a spring-day outing ultimately balances instruction and entertainment. Flett's lovely collages add beauty and a fresh, contemporary tone, while the text captures the essence of the young learning from the old. Timeless values, such as gratitude for the earth, are seamlessly integrated. Consider pairing with the similarly themed All around Us (2017), by Xelena González. Grades 1-3."  (Booklist Reviews, 2018 March #2).

"In the Nicola Valley, British Columbia, where Interior Salishan peoples live, Nikki and friends forage for wild plants with relatives, including Yayah (grandmother). Yayah emphasizes the importance of plant identification and naming in their endangered Indigenous language, Nłe?kepmxcmn. Using the text's pronunciation guidance and the glossary, interested readers will learn along with the young characters. Quiet collage-like art emphasizes the land's natural riches. Author's note included." (Horn Book Guide Reviews, Spring 2019).
Other Books in "Picture Books"