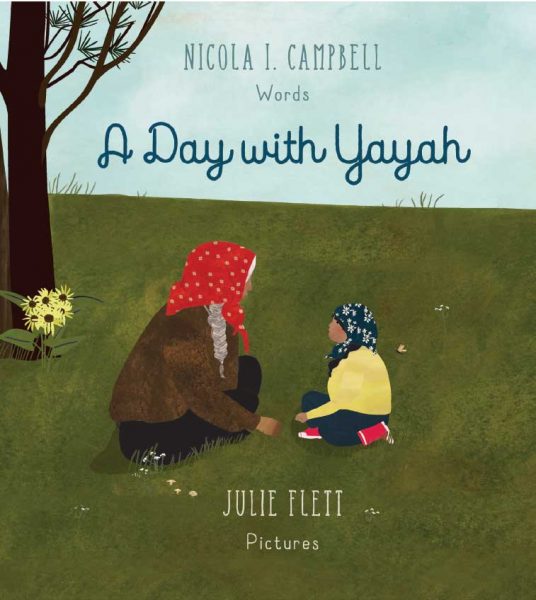 About the Book
Set in the Nicola Valley, British Columbia, a First Nations family goes on an outing to gather edible plants and mushrooms. The grandmother, Yayah, passes down her knowledge of the natural world to her young grandchildren.
Praise for A Day with Yayah:
"By using a story about family and nature as a conduit to share Nłe?kepmxcmn, Campbell nimbly proves how the way we speak is intertwined with the rest of one's life, and why it is essential to preserve Indigenous languages with a new generation." — the Globe & Mail
"Campbell and Flett present the power of practicing Indigenous traditions and family values – for shaping strong, patient, smart, and loving characteristics in children. . . The distinct and unbreakable resiliency of Indigenous people is affirmed in this loving portrait of generational courage and fortitude." — Quill & Quire
"Flett's lovely collages add beauty (to) this cheerful story of a spring-day outing . . . Timeless values, such as gratitude for the earth, are seamlessly integrated." — Booklist Reviews
"This is probably the most beautiful "didactic" book I've ever encountered—grounded in solid, caring Indigenous family/community relationships, and in a profound respect for children's need to interact closely with things that are worth investigating in their world." — Debbie Reese
"In the Nicola Valley, British Columbia, where Interior Salishan peoples live, Nikki and friends forage for wild plants with relatives, including Yayah (grandmother). Yayah emphasizes the importance of plant identification and naming in their endangered Indigenous language, Nłe?kepmxcmn. Using the text's pronunciation guidance and the glossary, interested readers will learn along with the young characters. Quiet collage-like art emphasizes the land's natural riches. Author's note included." — Horn Book Guide Reviews
Awards:
Finalist for the BC Book Prize 2018
Listed as a resource in the BC First Peoples 12 Teacher Resource Guide, created by the First Nations Education Steering Committee
About the Author:
Nicola I. Campbell's books have won many awards, including the TD Book Prize, the Marilyn Baillie Award and the Anskohk Aboriginal Children's Book of the Year. Of Nicola Valley First Nations heritage, she currently lives in British Columbia with her son.
About the Illustrator:
Julie Flett's books and illustrations have also won many prestigious prizes including the BC Book Prize and the Aboriginal Literature Award. Of Cree-Métis heritage, she lives in Vancouver, BC.
Other Books in "Picture Books"