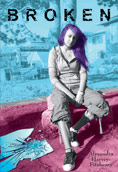 About the Book
Ash Perrault knows why she's upset: her dad's fiancé is moving into their house, her best friend Mouse is hiding a secret from her, she has detention on the school dance committee, and her relationship with her boyfriend, Seth, is confusing. But Ash doesn't know why the glass around her keeps breaking without her touching it. Her power to break glass is not only eerie, it's dangerous. Can she find a way to control it?
Praise for Broken:
"Broken presents us with Ash Perrault, whose refreshing adolescent voice teenage readers will be certain to identify with." — Resource Links
Other Books in "Young Adult"