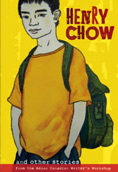 About the Book
Chosen by Ricepaper magazine and the Asian Canadian Writers' Collective, these stories by emerging and established writers such as Evelyn Lau and Governor General Award winner Paul Yee reflect the experiences and sentiments of North-American Asian teenagers.
Featuring work by Annie Zhu, Kwai-Yun Li, Marty Chan, Evelyn Lau, Kellee Ngan, Tony Wong, Fiona Tinwei Lam, Paul Yee, Hanako Masutani, Kagan Goh, Taien Ng-Chan, Linda Mah, and Kentaro Ide.
Other Books in "Young Adult"