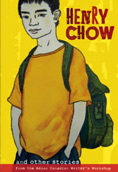 Henry Chow and other stories
About the Book
Chosen by Ricepaper magazine and the Asian Canadian Writers' Collective, these stories by emerging and established writers such as Evelyn Lau and Governor General Award winner Paul Yee reflect the experiences and sentiments of North-American Asian teenagers.
Featuring work by Annie Zhu, Kwai-Yun Li, Marty Chan, Evelyn Lau, Kellee Ngan, Tony Wong, Fiona Tinwei Lam, Paul Yee, Hanako Masutani, Kagan Goh, Taien Ng-Chan, Linda Mah, and Kentaro Ide.
Praise for Henry Chow and other stories:
"Each perspective is unique and captivating…The thirteen short stories in this slim volume range from heartbreaking to empowering. Recommended." — Library Media Connection
"With its broad range of themes, this collection should appeal to a variety of readers." — School Library Journal
"A good addition to any library." — CM Reviews
"The stories in Henry Chow have been well chosen, reflecting a diversity of experiences and offering a taste of what's out there by Asian Canadians." — Paper Tigers
Other Books in "Young Adult"