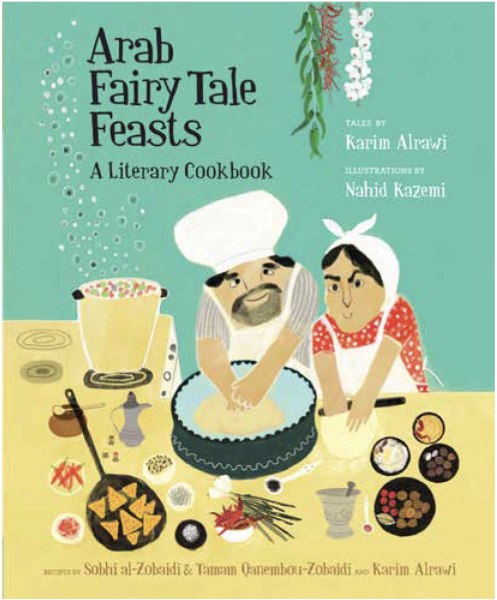 About the Book
Arab Fairy Tale Feasts is the latest title in the highly acclaimed Fairy Tale Feasts series in which prominent writers of diverse cultures have created enchanting tales paired with traditional recipes easily accessible to young cooks and their families.
These magical tales, by award-winning author and master storyteller Karim Alrawi, all feature food or feasting and conclude with an iconic recipe. They are accompanied by intriguing anecdotes illuminating Arab culture and culinary traditions.
"In this charming third installment in the Fairy Tale Feasts Collection there is much to be learned, even for readers familiar with Arab culture…An engaging literary cookbook that is a feast for the eyes, the heart, and the palate."
— Kirkus Reviews
"These tales beg to be read and discussed; the many and varied recipes will be fun for classroom use or for families to share."
— School Library Journal
"(The stories) draw on the rich storytelling traditions of Arab peoples. . . .(and) Kazemi's largely unlined, stylized illustrations employ a folkloric sensibility. Ages 8–12."
— Publishers Weekly
About the contributors
Nahid Kazemi is an artist, illustrator and graphic designer. She has published many award-winning children's books, and was nominated for the Governor General's Literary Award and the 2020 Astrid Lindgren Memorial Award. Her recent publications include Over the Rooftops, Under the Moon and The Old Woman. She has exhibited her work around the world. Nahid lives in Montreal.
Tamam Qanembou-Zobaidi was born and raised in the Old City of Jerusalem. She studied visual arts at Al-Quds University, and worked in Palestine as an actress, TV presenter and stage artist, but always had a passion for cooking. She and her husband, Sobhi al-Zobaidi, established the first Palestinian restaurant in Vancouver, the celebrated and much-loved Tamam. She lives in Vancouver with her husband and their two daughters.
Sobhi al-Zobaidi was born and raised in Palestine and grew up in a refugee camp. After studying film production and cinema at New York University, Sobhi produced a number of award-winning documentaries and short films. A songwriter and published essayist on Palestinian culture and art, he lives in Vancouver, Canada with his wife, Tamam, and their two daughters.
Other Books in "Literary Cookbook"