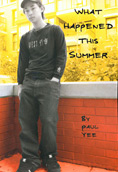 What Happened This Summer
About the Book
This collection of short stories by Governor General's Award-winning author Paul Yee takes readers into the lives of Chinese teens in Canada, who must deal with their cultural backgrounds as well as battle parents over schooling, careers and peer relationships. Like all teens, they grapple daily with issues around sexuality, religion and fitting in.
Praise for What Happened This Summer:
"Yee's teens are not only credible; they will stick with readers just as Salinger's Glass family has." — Kliatt
"These stories offer a varied, thought-provoking picture of a community Yee has long profiled." — Toronto Star
Other Books in "Young Adult"