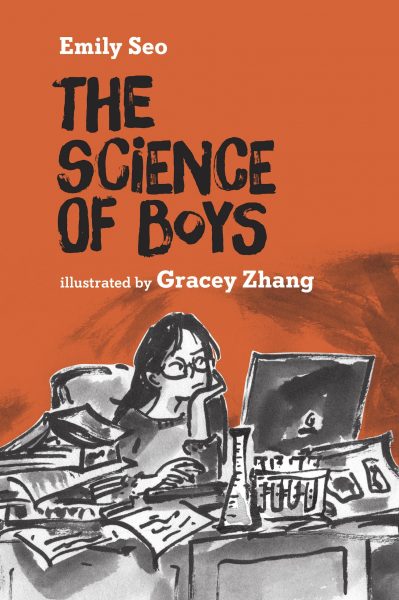 About the Book
Science nerd Emma Sakamoto wants to reinvent herself. So when a popular girl at school seeks Emma's help in getting a boy to like her, Emma starts writing The Science of Boys. Can gravity pull a boy into a girl's orbit? Emma applies scientific laws and theories to a perplexing subject—boys. But do people really conform to scientific principles? The results are unpredictable in this heartwarming story about the struggles of fitting in and the complexities of friendship.
Praise for The Science of Boys:
"In this heartwarming 'experiment with words', first-time author Emily Seo gives the familiar tale of fitting in a new twist. . . No stone is left unturned in the fast-paced read that is sure to delight tween and teen STEMinists. Gracey Zang's illustrations bring Emma's world to life." – Canadian Children's Book News
 "A nerdy Canadian teen blends real science principles with matchmaking in Seo's low-key debut. . . .Told via homey-feeling prose, Seo's story deftly portrays one teen's struggles to juggle friendship woes, familial trials, and personal truths with fitting in, making for an earnest, low-stakes romp. Zhang's illustrations, rendered in bold swathes of b&w ink, depict myriad scenes from Emma's life, including an idyllic moment overlooking the ocean." – Publishers Weekly 
"A genuine and fun-filled read, The Science of Boys captures many complexities in the lives of preteen girls today while encouraging curiosity and an interest in science—a subject that girls still often lack confidence in and are discouraged from pursuing." – BC Bookworld
"Emma will take readers through the gamut of teenaged emotions: embarrassment, loneliness, excitement, deceit, acceptance, and the long difficult journey to self-knowledge. Highly recommended."  – Canadian Materials   
 "If author Emily Seo could pick one scientific concept to describe adolescence, it would be the second law of thermodynamics: the entropy or disorder of the universe will increase over time. In short, there will be chaos – and that's exactly what ensues in her debut middle-grade novel, The Science of Boys (Tradewind Books), when the main character and science nerd Emma Sakamoto tries to help a popular girl catch a boy's eye." – Quill & Quire  
"A delightful mix of science and relationships." – Kirkus Reviews
"Emily Seo's use of the laws of science to illustrate and explain the world of teenage romance and family strife is new and makes The Science of Boys a clever, unique, engaging and entertaining read." Highly Recommended — CM: Canadian Review of Materials
"(The Science of Boys) cleverly prompts readers to consider how scientific thinking can be applied to daily living." — 49th Kids January 26, 2023
Cool book alert: What if gravity could pull a boy into a girl's orbit? — CBC News Interview, February 11, 2023
Awards:
Finalist for the Sheila A. Egoff Children's Literature Prize, BC and Yukon Book Prizes 2023,
Snow Willow Finalist, The 2023 Willow Awards
About the Author:
Emily Seo holds a PhD in Chemistry from the University of British Columbia and worked in science publishing in Germany. Her experimentation with words resulted in The Science of Boys. She currently lives in Vancouver, BC, with her husband and two young scientists.
About the Illustrator:
Gracey Zhang is the author and illustrator of Lala's Words, for which she received the prestigious Ezra Jack Keats Award. She is also the illustrator of The Big Bath House, Nigel and the Moon, and The Upside Down Hat. Born and raised in Vancouver, BC, she is now based in New York.
Other Books in "Chapter Books"