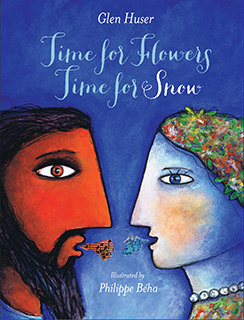 Time for Flowers, Time for Snow
French language rights sold to Quebec.
About the Book
Video: Time for Flowers, Time for Snow, A History
The Greek goddess of harvest Demeter loves her daughter Persephone very much. So when Persephone is kidnapped by Hades, ruler of the underworld, and taken as his bride, Demeter's sadness brings on the winter snow. When the crops fail, Zeus, sends his messenger Hermes to negotiate Persephone's release. But things get complicated when Persephone takes a liking to her captor.
The book includes a CD of the children's opera composed by Giannis Georgantelis and produced by Chroma Musika. Over 180 children from Quebec accompanied by the 55-piece Orchestre Symphonique Pop de Montréal sing in this massive transatlantic musical collaboration narrated by Terry Jones (Monty Python).
Song samples: Hide Your Eyes | Pomegranate | Seasons | Time for Flowers
Praise for Time for Flowers, Time for Snow:
"Time for Flowers, Time for Snow is a fabulous multisensory thrill to be enjoyed by parents and kids alike." — starred review Quill & Quire
Composer's Biography:
Giannis Georgantelis was born in Athens and studied music at the National Conservatory. He has composed music for theatrical plays, multimedia projects, festivals as well as musical ensembles. His musical contribution to the experimental multimedia play marcopolis.com was performed in Megaron Concert Hall, Athens. Giannis is also an accomplished orchestrator having arranged many different folk songs of the Mediterranean for his group Carousel. His discography includes 2 CDs and 2 Children's Operas which received great critical acclaim in Greece.
About the Illustrator:
Philippe Béha is a two-time winner of the Governor General's Award.
Other Books in "Chapter Books"