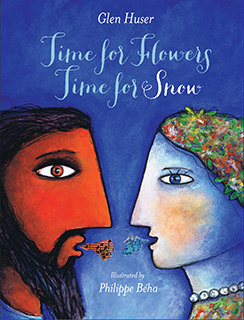 | | | |
| --- | --- | --- |
| CDN$ 18.95 | US$ 18.95 | UK£ 11.90 |
Description
Video: Time for Flowers, Time for Snow, A History
The Greek goddess of harvest Demeter loves her daughter Persephone very much. So when Persephone is kidnapped by Hades, ruler of the underworld, and taken as his bride, Demeter's sadness brings on the winter snow. When the crops fail, Zeus, sends his messenger Hermes to negotiate Persephone's release. But things get complicated when Persephone takes a liking to her captor.
The book includes a CD of the children's opera composed by Giannis Georgantelis and produced by Chroma Musika. Over 180 children from Quebec accompanied by the 55-piece Orchestre Symphonique Pop de Montréal sing in this massive transatlantic musical collaboration narrated by Terry Jones (Monty Python).
Song samples: Hide Your Eyes | Pomegranate | Seasons | Time for Flowers
Composer Biography
Giannis Georgantelis was born in Athens and studied music at the National Conservatory. He has composed music for theatrical plays, multimedia projects, festivals as well as musical ensembles. His musical contribution to the experimental multimedia play marcopolis.com was performed in Megaron Concert Hall, Athens. Giannis is also an accomplished orchestrator having arranged many different folk songs of the Mediterranean for his group Carousel. His discography includes 2 CDs and 2 Children's Operas which received great critical acclaim in Greece.
Awards
Reviews
"Have you ever wondered why / The seasons come and go— / And springtime bursts with flowers, / While winter's filled with snow?" Although warned by her mother, the earth goddess Demeter, beautiful Persephone wanders off into the lush countryside. Hades, god of the underworld, is enchanted by her beauty and seizes her, taking her down below. Spurning bananas flambé, lobster thermador, and thick-crust pizza, Persephone refuses to eat, knowing that, if she does, she must remain with Hades forever. But when she consumes several pomegranate seeds, a deal is cut: she will live half the year above (when the earth will thrive) and half below (when nothing grows, as Demeter grieves at her daughter's absence). Béha's richly colored portraits of almond-eyed gods and goddesses evoke the feel of ancient Cretan wall paintings in this unusual, lyrical rendition of the Greek myth. A CD of the opera, performed by more than 180 Quebec school children, is included but was unavailable for review.
— Lolly Gepson
"A retelling of the myth or Persephone, but what makes this one special is that the book includes a CD of the story performed as an opera. … Huser's book would be an excellent gift for kids who enjoy reading Greek myths."
—Shelley Sommer, August 2014
"Béha's illustrations show the influence of the Chagall/Cubist school, making splendid use of mottled and translucent color. Collaged-in printed music appears in the images as leaves, eyebrows or clothing, reinforcing the book's musical underpinnings. … With or without the CD, it is a creative foray into sharing myth with young people."
—Kirkus Reviews, November 2013
"Time for Flowers, Time for Snow is a fabulous multi-sensory thrill to be enjoyed by parents and kids alike." — Quill & Quire (Starred Review), November 2013
"Béha's illustrations, whose flat, stylized Greek gods, painted in stained-glass blues and ochres, recall Chagall's. The project's production values are of a high standard . . ." — Publishers Weekly, October 2013
Other Books in "Chapter Books":