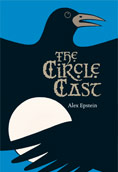 | | | |
| --- | --- | --- |
| CDN$ 12.95 | US$ 12.95 | UK£ 8.95 |
Description
Morgan le Fay sorceress—seducer of King Arthur and destroyer of Britain—was a girl once. When Uter Penndragon uses Merlin's magic to seduce her mother and murder her father, Morgan flees to Ireland to avoid being killed herself. There she is captured in a slave raid and sold to a village witch. As Morgan comes of age, she discovers her own magical powers. She eventually falls in love with a young Irish chieftan. But will her drive for revenge destroy her one chance for love and happiness?
Awards
Finalist for the Quebec Writers Federation Prize for Children's and Young Adult Literature 2011
*Chosen by the British Historical Novels Society Editors 2011
*Selected as Best of 2012 by the Canadian Children's Book Centre
Reviews
Inspired by Arthurian lore and informed by research on medieval Britain and Ireland, this novel imagines the early years of Morgan le Fay. Anna is 11 when war leader Uter kills her father, storms the castle at Din Tagell, and impregnates her mother, Ygraine. Sent to Ireland to save her life, Anna takes a new name, Morgan, and vows revenge. Over the next few years she lives as a slave in an Irish village, escapes to a Christian community, and marries a tribal war leader. At 16, she returns to Britain, where she comforts her dying mother and sets off in search of her half brother, Arthur. In his first novel, Canadian screenwriter Epstein creates a strong protagonist within a brutal society, where she survives through her wits, her will, and her spiritual connection with the land, which is the source of her magical power. Never overwhelming the story itself, this spiritual dimension gives rise to the most vivid writing in this compelling novel.
— Carolyn Phelan
"A mature and surprising story that supposes the life of Morgan LeFay, the half-sister of King Arthur. Intense and evocative. This book has everything one wants in a novel from a deftly-organized plot, to varied characterization to crisp, rythmic writing." -The Quebec Writers Federation Prize Jury
"A sophisticated, stylishly written novel for the mature reader." –  The School Librarian Journal
"This has the darkness of Celtic magic – not fanciful, period romance – and a poetic terseness that suits its stern, passionate hero." – Toronto Star 
"… an excellent work of Arthurian fantasy, highly recommended." – The Midwest Book Review
"Alex Epstein cleverly weaves a story that contains the components of Camelot known to readers young and old. The repetitive nature of Epstein's writing is hypnotic and acts as a lure that propels the reader forward." –CM Magazine
"Fans of Arthurian legend will love this book, and so will everyone else. Great characters, great writing, great story." –  Historical Novels Review 
"For fans of Arthurian reimaginings, The Circle Cast is a must read, and even readers who have been disappointed by vague historical settings and authors more interested in defending their characters than developing them will find this novel a welcome departure from the norm. The Circle Cast is a quick read, but one that will stay with you long the closing image." – Lacuna: A Journal of Historical Fiction
"The Circle Cast is a thoroughly enjoyable story that can be easily enjoyed by teen and adult readers alike." – Book Reviews for Tweens and Teens