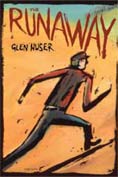 | | | |
| --- | --- | --- |
| CDN$ 12.95 | US$ 12.95 | UK£ 7.95 |
Description
Leroy "Doodlebug" Barnstable likes to call himself the quickest draw in the west—with a crayon. It's 1923 and Doodle is on the run from a couple of abusive cousins. He stumbles into a travelling Chautauqua show where it's easy to get lost in a crowd—but also easy to lose your heart. This funny and endearing novel by Governor General's Award willing novelist Glen Huser will make an absorbing read for fourteen and fifteen year olds, boys and girls alike.
Awards
Finalist for the Sheila A. Egoff Children's Literature Prize (BC Book Prizes) 2012
*Selected as one of The Best Children's Books of the Year by Bank Street College 2013
*Selected as The Year's Best Young Adult Fiction by Resource Links Magazine 2011
*Shortlisted for the Chocolate Lily Award 2013
*Selected as Best of 2012 with a Special Mention by the Canadian Children's Book Centre
Reviews
When his parents die, 15-year-old Leroy finds himself in the care of his cruel cousins, who treat him like an indentured servant. Tiring of this bleak existence, Leroy runs away and finds refuge in a chautauqua, a traveling tent show. There he finds work as a sketch artist and falls in love with Maggie, the daughter of the show's principal actor. But one of his unforgiving cousins is in hot pursuit, and Leroy learns that Maggie's father is harboring a dangerous secret. Will the cousin catch Leroy? Will Maggie return his love? Will the father's secret be compromised? Canadian author Huser, winner of the prestigious Governor General's Award, uses these plot points as the foundation on which to build this genial, agreeably old-fashioned picaresque novel. Set in the early 1920s—the waning years of the chautauqua shows—the novel offers interesting insights into the once-popular cultural phenomenon while giving readers a fast-paced story and, in Leroy, a plucky, sympathetic protagonist.
— Michael Cart
"Intrigue, romance and fun leaven this tale of a good-hearted runaway boy beginning to find his way in the world. This likable protagonist makes for a fine introduction to an era before movies and radio caused the Chautauqua to fade away." - Kirkus
"This book is wonderful for those students who enjoy an adventure in time and in spirit." – Resource Links
"Glen Huser has written an entertaining and heart-warming story that captures both the innocence and the hardship of the 20s. … The well-constructed historical setting, great character development, and a fast-paced story contributes to the likeability of this book. Recommended." – CM Magazine
"this first-person account by a good-hearted hero is the perfect guide through a charming and little-known piece of Americana. The style is a plainsong poetry, and the story both evocative and heartrending. Highly recommended" – Historical Novel Society
"Readers will find the story of the Chautauqua entertaining." – G. Ray Bodley High School, Fulton, NY
"It's a very heart-warming and well-told story of a young boy's struggle to find happiness after everything in his life seems to have gone terribly wrong. … I felt a little nostalgic after reading this, and it made me go back to some of my childhood favourites, The Adventures of Tom Sawyer and Huckleberry Finn … it definitely has a similar Wild West boy-adventure feel." – School Librarian journal