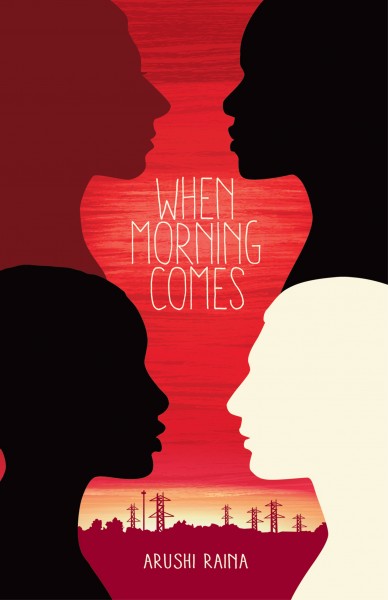 When Morning Comes
Rights sold to South Africa and India. 
About the Book
It's 1976 in South Africa.
Written from the points-of-view of four young people living in Johannesburg and its black township, SowetoZanele, a black female student organizer, Meena, of South Asian background working at her father's shop, Jack, an Oxford-bound white student, and Thabo, a teen gang-member or tsotsi. This book explores the roots of the Soweto Uprising and the edifice of Apartheid in a South Africa about to explode.
In the black township of Soweto, Zanele, who also works as a nightclub singer, is plotting against the apartheid government. The police can't know. Her mother and sister can't know. No one can know.
On the affluent white side of town, Jack Craven plans to spend the last days of his break before university burning miles on his beat-up Mustang, and crashing other people's parties.
Their chance meeting changes everything.
Already a chain of events are in motion; a failed plot, a murdered teacher, a powerful police agent with a vendetta, and a secret network of students across the township. The students will rise. And there will be violence when morning comes.
Introducing readers to a remarkable young literary talent, When Morning Comes offers an impeccably researched and vivid snapshot of South African society on the eve of the uprising that changed it forever.
2016 Indian Summer Festival Jubulile Maju performed at our book launch
Praise for When Morning Comes:
"(This) riveting story about the Soweto Uprising of 1976 focuses on four young people (whose) lives have become inextricably intertwined…Its characters are engaging, its description of societal differences and injustice is thought-provoking, and its action sequences are at times heart-stopping. (Raina) create(s) believable characters quickly…At its best, historical fiction allows us to feel as if we are living through something we have only read about. That is especially true in the case of When Morning Comes." —The Montreal Gazette
"A riveting and accomplished debut." — starred review Publisher's Weekly
"This timely reminder of the power and passion of young people contextualizes current student protests by honoring those of the past . . . Readers who love the fast pace and high stakes of dystopian teen literature should snag this book." — starred review Kirkus Reviews
Awards:
Winner of the Children's Africana Book Award 2018
Finalist for the Geoffrey Bilson Award for Historical Fiction for Young People 2017
Other Books in "Chapter Books"