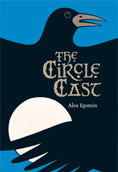 About the Book
Morgan le Fay sorceress—seducer of King Arthur and destroyer of Britain—was a girl once. When Uter Penndragon uses Merlin's magic to seduce her mother and murder her father, Morgan flees to Ireland to avoid being killed herself. There she is captured in a slave raid and sold to a village witch. As Morgan comes of age, she discovers her own magical powers. She eventually falls in love with a young Irish chieftain. But will her drive for revenge destroy her one chance for love and happiness?
Praise for The Circle Cast:
"This has the darkness of Celtic magic—not fanciful, period romance—and a poetic terseness that suits its stern, passionate hero." — Toronto Star
Awards:
Canadian Children's Book Centre Best Books of 2012
Finalist for the Quebec Writer's Federation Award 2011
British Fantasy Association best fantasy novel 2011
A Historical Novel Society Editor's Choice
Other Books in "Young Adult Novel"