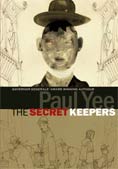 About the Book
Jackson Leong is haunted by ghosts—that of his brother and that of a mysterious young woman. The story is set after the earthquake of 1906 destroys most of San Francisco's Chinatown. The Secret Keepers provides a window into Chinese culture by Governor
General's Award-winning author, Paul Yee.
Praise for The Secret Keepers:
"The story is well-stocked with specters and misadventures." — Kirkus
"Set in the rich landscape of San Francisco's Chinatown in the early 1900s, the history
and diverse culture of the Chinese-American population are vividly brought to life. The
characters are complex, believable, and multilayered and refuse to paint a stereotype of Chinese-Americans . . . Yee has created another rich North American/Chinese ghost story to thrill his readers." — Resource Links
"Readers of mystery books will enjoy the ghosts and supernatural elements in this story. Jackson overcomes adversity, keeps his family from disgrace, and becomes a capable and admirable young man by the end of the novel. Highly recommended." — CM Magazine
"The Secret Keepers is a treasure chest of excellent historical fiction. In the foreground, life-like characters wrestle with the same survival problems today's readers might face; in the background, an uncompromised, perfect portrayal of the past . . . San Francisco's Chinatown at the time of the great earthquake." — Canadian Children's Book News
"Paul Yee presents a tension-laden turn-of-the-century story of family secrets and cover-ups with drama and suspense. With a quickstep pace and unexpected twists, this is a compelling read that will engage all ages." — Historical Novel Society
Awards:
A White Raven Book for International Understanding
Canadian Children's Book Centre Best Books of 2012
Resource Links – Best of 2011
Other Books in "Young Adult Novel"