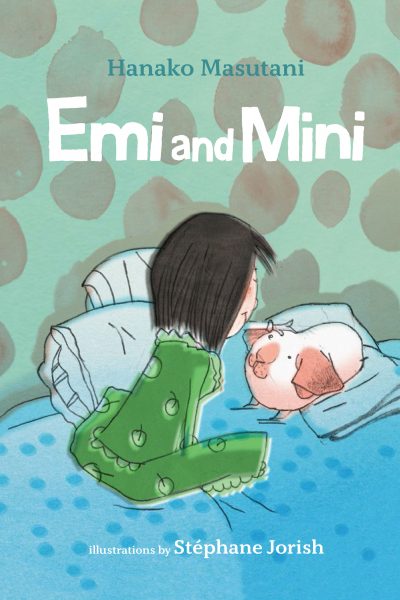 About the Book
Emi gets a new pet, Mini, a loveable fat hamster. But unfortunately, Emi is not a huge fan of hamsters — she really wanted a dog. After Mini escapes from her cage and hides somewhere in the house, Emi finally realizes she loves her new little friend.
Praise for Emi and Mini
"A charming and original story (and with an important and underlying message about the bond between pet and child) . . . for children ages 6 to 8, Emi and Mini is an especially and unreservedly recommended pick for family, school and community library storybook collections for young readers."
— Midwest Book Review Published: August, 2023
"Absolutely beautiful illustrations by Jorish make Masutani's charming tale come to life. Many readers will be interested in the glimpses into Emi's Japanese Canadian culture as they follow her sweet journey … A familiar tale of big changes and animal love that many readers will relate to; some challenging vocabulary makes this a good independent reading choice for intermediate readers or a read-aloud for younger readers."
— School Library Journal Published: July 14, 2023
"Emi and Mini is a gentle read for older children adjusting to new situations or responsibilities. Stéphane Jorisch's illustrations complement Hanako Masutani's storytelling (and) throughout the book, colour is effectively used to echo emotions."
— CM: Canadian Review of Materials (Recommended) Published: June 2, 2023
About the Author:
Hanako Masutani writes fiction, poetry, nonfiction and literature for children. She was a contributor to the short story collection Henry Chow and Other Stories published by Tradewind Books. She lives in Vancouver with her three children.
About the Illustrator:
Stéphane Jorish is one of Canada's most celebrated illustrators. He is a four-time recipient of the Governor General's Award, the TD Book Prize and many others. He illustrated The Riddlemaster for Tradewind Books. Stéphane lives in Montreal.