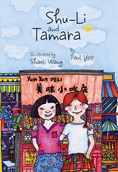 About the Book
Shu-Li's family moved to Canada two years ago. They now run a Chinese deli in Vancouver's Commercial Drive area. Her classmate Tamara recently moved into the neighbourhood. The two girls become good friends, but an ugly rumour threatens their relationship.
Praise for Shu-Li and Tamara:
"This sturdy paperback is an attractive choice for children starting to read chapter books." — Booklist
"This friendship book has an amiable tone, readable dialogue, and a believable plot." — School Library Journal
About the Illustrator:
Born in China, Shaoli Wang now lives in British Columbia. She has won great acclaim for her paintings.
Other Books in "Chapter Books"