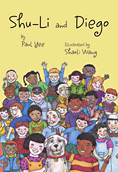 About the Book
In this sequel to the popular Shu-Li and Tamara, Paul Yee recounts the adventures of Shu-Li and her classmate Diego as they face the challenge of taking care of Baxter, a neighbour's dog. The two friends face disaster when Baxter runs away and they have to break the news to its owner.
Praise for Shu-Li and Diego:
"Shaoli Wang's drawings and Yee's chapter format create the feeling of a grownup book for newly independent readers." — Paper Tigers
Awards:
Resource Links Best of 2009
About the Illustrator:
Born in China, Shaoli Wang now lives in British Columbia. She has won great acclaim for her paintings.
Other Books in "Chapter Books"