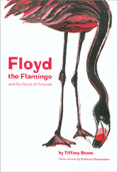 Floyd the Flamingo and his Flock of Friends
About the Book
Sneezing birds, complaining flamingos, warrior Vikings and radioactive cats! All these entertaining characters and a host of child-friendly themes are found in the pages of Floyd the Flamingo and His Flock of Friends, a lively, appealing book of poetry that should find its way onto the bookshelf of every family. Catchy rhymes and clever wordplay make this an engaging, amusing read under a quilt, in the bath or under a tree.
Praise for Floyd the Flamingo and his flock of friends:
"Like Dennis Lee's first book, Floyd the Flamingo might prove to be Tiffany Stone's calling card into Canadian children's lit." — Montreal Gazette
Awards:
Finalist for the Chocolate Lily Award 2006
About the Illustrator:
Kathryn E. Shoemaker has illustrated many books for young people. She teaches illustration at Langara College and lives in Vancouver, BC.