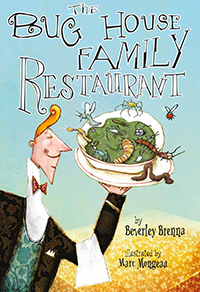 Bug House Family Restaurant, The
About the Book
The Bug House Family Restaurant serves up a delightful platter of poems featuring all kinds of creepy crawlers prepared by the finest chefs. A hilarious introduction to the environmentally sound idea of bugs as a source of human nourishment.
Praise for The Bug House Family Restaurant:
"Saskatoon teacher and author Beverley Brenna has written a hilarious book of poetry, reminiscent of Alligator Pie, in The Bug House Family Restaurant." — Winnipeg Free Press
About the Illustrator:
Marc Mongeau is the author and illustrator of numerous children's books. He is the recipient of the Mr. Christie's Book Award for There Were Monkeys in My Kitchen! written by Sheree Fitch. He currently lives with his family in Montreal, Quebec.
Other Books in "Chapter Books"