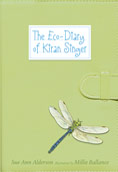 The Eco-Diary of Kiran Singer
About the Book
Kiran Singer is worried. What can a kid do to help preserve the earth? In her diary, Kiran explores the environmental problems threatening her local wetland. Richly illustrated by Millie Ballance, Sue Ann Alderson's poems are a celebration of life and our ability to make a difference.
Praise for The Eco-Diary of Kiran Singer:
"Kiran insightfully and beautifully records her observations of nature." — starred School Library Journal
Awards:
Winner of the ASPCA Henry Bergh Award 2008
Finalist for the Chocolate Lily Award 2009
Finalist for the Norma Fleck Award 2008
A Canadian Children's Book Centre
Best Books Starred Selection (2008)
About the Illustrator:
Millie Ballance lived in Canada for many years and now lives in London, UK.