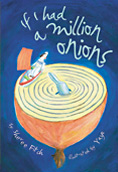 If I Had a Million Onions
About the Book
These stories take us into the turbulent lives of Asian-Canadian teenagers. We are drawn into their struggles to balance their parents' expectations against the pull of today's urban youth culture. Yee gives us a vivid snapshot of the tensions which arise from the immigration experience as he explores its profound impact upon the lives of young people.
Praise for If I Had a Million Onions:
"A delight from first line to last, these 25 poems—each featuring small, whimsical colored-pencil sketches leave even the most tone-deaf ears eager to (as the title poem puts it) 'juggle some / Then huggle some / And give the rest away.' " — starred review Kirkus Reviews
About the Illustrator:
Award-winning artist Yayo has illustrated many children's books. Originally from Columbia, he now lives with his wife and son in Montreal, Quebec.