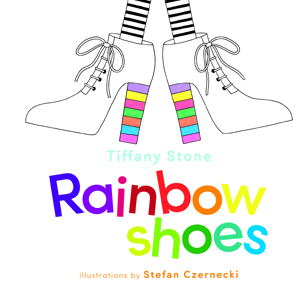 About the Book
What to wear? What to choose?
Pick a pair of rainbow shoes.
Or purple pants from aunts in France
that make you want to strut and prance.
Pink pj's for pirate naps
with pockets to hide treasure maps.
Red rubber boots, the robot kind.
All these and more are clothes you'll find
in this colour-full book of wearable rhymes.
Praise for Rainbow Shoes:
"Bouncy verse and clever illustrations help teach kids colors. Consistently surprising and equally delightful." — starred review Kirkus Reviews
"Stone is adept at surprise endings and Czernecki's illustrations are graphically pleasing in colouring book style." — Quill and Quire
Awards:
Finalist for the BC Book Prize 2013
About the Illustrator:
Stefan Czernecki has published many books for children. He lives in Vancouver.
Other Books in "Picture Books"