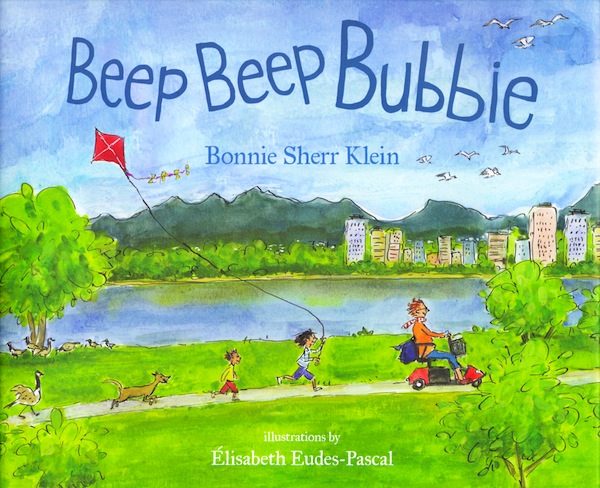 Beep Beep Bubbie
Shortlisted for the 2021 BC Book Prize.
About the Book
Kate is upset when her grandma (Bubbie) gets a motorized scooter. Will Bubbie still be Bubbie in that scooter?
Kate slowly warms to the scooter after she sees what a good friend it is to Bubbie. And shopping at Granville Island Market with Bubbie and the scooter turns out to be so much fun! Her little brother Nate loves the scooter's bells and whistles, and Kate makes new friends on their joyous outing.
Praise for Beep Beep Bubbie:
"This beautifully illustrated children's book teaches important lessons about living with disability." — The Vancouver Sun
"The illustrations by Élisabeth Eudes-Pascal are wonderfully colourful and fun; full of energy and movement." — The Jewish Independent
"Beep Beep Bubbie" is a thoroughly charming picture book entertainment for children and especially recommended as an enduringly popular addition to family, daycare center, preschool, elementary school, and community library collections." — The Midwest Book Review
"The filmmaker and activist Bonnie Sherr Klein has published "Beep Beep Bubbie," an account of "a grandmother in a motorized scooter who takes her grandkids to climate marches." — Bill McKibben, The New Yorker
"Bonnie has been vocal about climate change alongside her children, activist authors Seth Klein and Naomi Klein. And this fall, she's incorporated feminism, disability rights, and
environmentalism into a kids' book, Beep Beep Bubbie (Tradewind Books). Despite the heavy issues, the picture book—with illustrations by Élisabeth Eudes-Pascal—is all fun." — Quill & Quire
"Few authors of juvenile books have overcome such odds as Bonnie Sherr Klein. Her own struggle is reflected in Beep Beep Bubbie, where she demonstrates that a grandma on a scooter can be as much fun as one walking. Montreal artist Elisabeth Eudes-Pascal's attractive and humorous illustrations add to the picture book's appeal." — Winnipeg Free Press
Awards:
CCBC Best Books
Finalist for the BC Book Prize 2020
Finalist for the Blue Spruce Award 2022
About the Author:
Bonnie Sherr Klein is an award-winning documentary filmmaker and writer. After suffering a catastrophic brainstem stroke in 1997, she published a best-selling memoir, Slow Dance: A Story of Love and Disability. Soon after, she co-founded KickstART Society for Disability Arts and Culture. Bonnie is a recipient of a Governor General's Commemorative Medal, and was invested as an Officer of the Order of Canada. She lives in Vancouver, BC with her husband Michael, and moves through the world on Gladys, her motorized scooter.
About the Illustrator:
Élisabeth Eudes-Pascal is a highly acclaimed artist and illustrator and was a finalist for the Governor General Award for Children's Book Illustration. She was three years old when she first saw her mother draw. Ever since that magic moment, she never stopped creating art. She lives with her husband in Montreal, where she helps intellectually challenged people of all ages draw and paint, loves chocolate almost as much as drawing, and, like Bubbie on her scooter, cycles around town on her bike.
Other Books in "Picture Books"