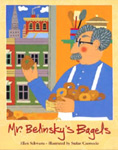 About the Book
Mr. Belinsky's bagel shop, frequented by a colourful group of loyal neighbourhood customers, is threatened with competition. When Mr. Belinsky tries to keep up by making cookies and fancy cakes he nearly forgets how to make his delicious bagels.
Praise for Mr. Belinsky's Bagels:
"Mr. Belinsky's bagels are the toast of the town." — Publisher's Weekly
"A tasty nosh, indeed!" — Kirkus Reviews
Awards:
Canadian Children's Book Centre Our Choice book (1999)
About the Illustrator:
Stefan Czernecki has published many books. He lives in Vancouver, BC.
Other Books in "Picture Books"