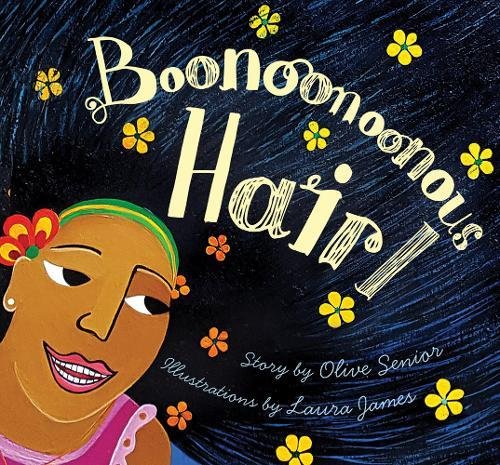 About the Book
In this vibrant and exquisitely illustrated picture book by Jamaican-Canadian writer Olive Senior and acclaimed artist Laura James (the team that created the best-selling Anna Carries Water), a young girl learns to love her difficult-to-manage voluminous and Boonoonoonous Hair.
Praise for Boonoonoonous Hair:
"The versatility of Black hair is celebrated and showcased through the cornrows, braids, plaits, afro puffs, twists, bow-adorned afro, and straight hair that Jamilla wears throughout the book." —   Booklist
"The energy between mother and child is infectious, and the rhythmic text is great fun to read. This girl's road to self-acceptance is playful, easy, and filled with love." — Kirkus Reviews
"The artwork by James – who is of Antiguan heritage – is an explosion of colour and energy, with each one of her illustrations perfectly echoing the vibrancy of Jamilla's ever-changing electric and kinetic hairstyles. Together, author and illustrator show young readers that being different isn't a bad thing." — Quill & Quire
"It is a beautiful ode to all that makes us different yet special. Accompanied by bold and colourful illustrations, this picture book would be a great addition to any children's collection." — CM Reviews
About the Illustrator:
Laura James is an award-winning artist and self-taught painter of Antiguan heritage. She illustrated the best-selling Anna Carries Water and lives in New York City.
Other Books in "Picture Books"