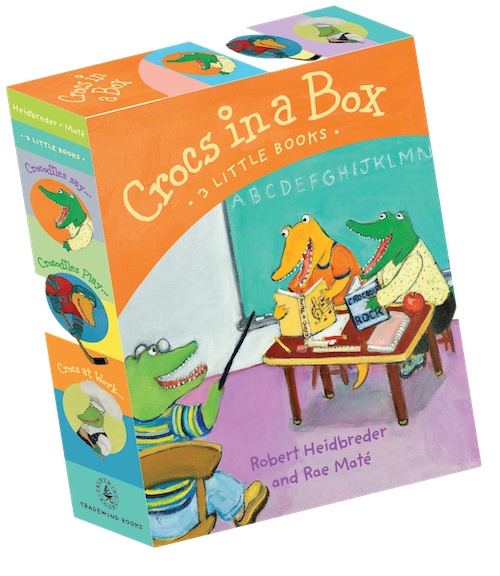 About the Book
All the joys of watching how crocodiles work and play, and what they say come together in one tidy gift box with tiny editions of Crocs at Work, Crocodiles Play, and Crocodiles say . . .
Claw your way through this trilogy of laugh-aloud classics!
Praise for Crocs in a Box:
"Masters of their craft, Heidbreder and Maté are at their mischievous best in these tales. The rhyming text sparkles. Heidbreder, who has enchanted children for many years with his poems and stories, and illustrator Maté brilliantly conspire to bring the reader a croc world of joyful mayhem." – The British Columbia Review
"Teachers and students will have fun brainstorming what Crocs at Work might do. What mischievousness might a croc hairdresser, policeman, firefighter or pilot get up to? It's all in the imagination. Take it as far as you can and have some fun." — CM Reviews
"An entirely nonserious, delightfully welcome look at the world of work." — Kirkus Reviews
"Clear, cheerful colors, a sunshiny atmosphere and a pleasant, wicked ebullience make Crocs at Work the perfect story-time choice." — Toronto Star
"Crocodiles Play is an inventive tale about an eccentric approach to organized sports as jocular? Describe it any way you like, it does the trick, animating . . . Rae Maté's large, comic creatures." — The Globe and Mail
"Heidbreder's bouncy verse and the mayhem and imagination of Maté's energetic illustrations for Crocodiles Say . . . will leave kids joyous with laughter." — The Toronto Star
"This collection would make a great Chanukah gift, expected or not!" — Jewish Independant
Awards:
CCBC Best Books
About the Illustrator:
Rae Maté teaches art to preschoolers when she is not painting in her garden studio. She lives with her husband and three children in Vancouver.
Other Books in "Picture Books"