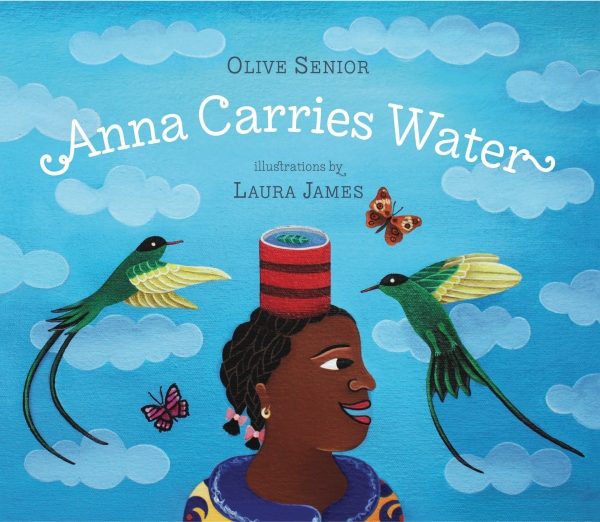 Anna Carries Water
Rights sold to Korea and South Africa.
About the Book
Anna fetches water from the spring every day, but she can't carry it on her head like her older brothers and sisters. In this charming and poetic family story set in Jamaica, Commonwealth Prize-winning author Olive Senior shows young readers the power of determination, as Anna achieves her goal and overcomes her fear.
Praise for Anna Carries Water:
"Tropical colors sprawl across wide double-page spreads of lush Caribbean landscapes." — Kirkus Reviews
"James's vibrant paintings will capture readers' eyes. Little details will enable children to realize those in other parts of the world aren't as dissimilar as they might believe." — School Library Journal 
"A gentle story about growing up. James's stunning illustrations capture the beauty and colour of the Jamaican landscape, as well as the warmth of Anna's family. Anna's triumph will delight young readers." — Quill & Quire
"This is one of the more charming books I've seen this year. Worth discovering. Worth holding onto." — Elizabeth Bird–Fuse 8
Award:
A New York Public Library Best Book of 2014
Recommended by the Canadian Children's Book
Centre for Black History Month 2015
A Canadian Children's Book Centre Best Book of 2014
A CLA Rainforest of Reading 2014 choice
Chosen as one of 100 Magnificent Children's Books of 2014 by School Library Journal
Chosen by Kirkus Reviews as:
– one of the 13 best diverse books of 2014
– one of the best picture books of 2014 to start a conversation
– one of the overall best children's books of 2014
About the Illustrator:
Laura James is a widely exhibited, award-winning artist and illustrator of Antiguan heritage. She is best known for her illustrations for The Book of Gospels and Boonoonoonous Hair. She lives in the Bronx, New York.
Other Books in "Picture Books"