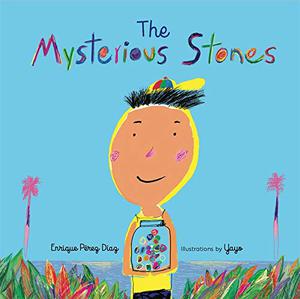 About the Book
Kiki is a young boy, growing up in Cuba in a house by the sea. He lives with his uncle and grandmother ever since his father sailed off across the ocean in search of a new life. One night, Kiki dreams about a ghost-like woman in white. He is amazed to encounter her the next day on a nearby beach, the same beach his father sailed off from. She leaves him a mysterious gift of colourful stones that give him newfound hope to be reunited with his father.
Praise for The Mysterious Stones:
"Yayo's luminous illustrations and Diaz's open-ended story offer a dreamlike take on the longing of a child who sees the world as full of possibilities."— The Virginian Pilot
"The Mysterious Stones . . . offers readers the suggestion of finding magic, beauty, and hope in ordinary things."—Quill & Quire
"The Mysterious Stones is a title to share between generations, one that ends on a note of hope, perfect in today's world." Highly Recommended—CM Reviews
"The Mysterious Stones is a story about living with uncertainty, as so many of us do these days . . . The vividly coloured illustrations use collage and layering techniques to add depth to the pages."—Rabble.ca
About the author:
Enrique Peréz Díaz writes for children and young adults. He has also been a journalist in radio, television, newspapers, and magazines. Enrique is the recipient of many awards and accolades for his writing. In 2014 he was a jury member for the Hans Christian Andersen Awards, the first Cuban to have had such an honour. He is the President of the Cuban Children's Writers' Association and the Vice- President of IBBY Cuba. His books include My Ocean (Groundwood Press), and The People of Blue Thoughts (Campanita Books), as well as many books published in Spanish.
Other Books in "Picture Books"