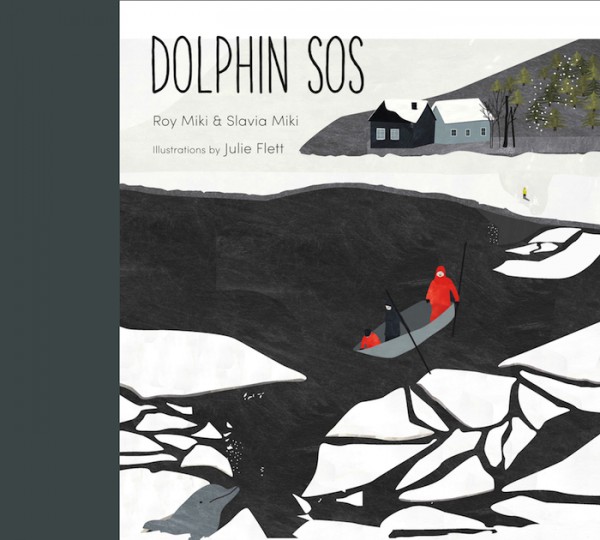 About the Book
Based on true events, Dolphin SOS recounts the story of three dolphins trapped in an ice-covered cove on the coast of Newfoundland. After the government fails to provide assistance, some young boys take matters into their own hands in order to save the distressed dolphins.
Praise for Dolphin SOS:
"A beautiful book . . . everything about this book is done with elegant simplicity. . . Flett's artwork is exquisite, using mainly black and white to portray the landscape with a bit of colour." — Resource Links
"Dolphin SOS is a beautiful narrative which is based on a true event . . . a charming story of dolphin rescue [that] introduces children to modern superheroes." — CM Magazine
"This is definitely a book I will read to the students this year . . . The illustrations by Vancouver-based artist Julie Flett are crisp and elegant." — Sommer Reading | A Blog About Books
Awards:
Winner of 2015 BC Book Prize – the Christie Harris Illustrated Children's Book Award
A Canadian Children's Book Centre Best Book of 2015
A Bank Street College Best Book of 2014
Finalist for the Surrey (BC) Schools' Best Book of 2015
Finalist for the CLA Amelia Frances Howard-Gibbon Award of 2015
Finalist for the Maralyn Bailie Award for Best Picture Book in Canada 2015
A 2015 Sigurd F. Olson Nature Writing Award (SONWA) Book of Note
About the Authors:
Roy Miki is a Vancouver writer, poet and editor. He is a recipient of the 's Award, and is a member of the Order of Canada and the Order of British Columbia.
Slavia Miki was an early childhood educator in Vancouver.
About the Illustrators:
Julie Flett is a celebrated illustrator of numerous children's books. She is a two-time recipient of the Christie Harris Illustrated Children's Literature Prize (BC Book Prize), as well
as a two-time nominee for the Governor General's Award. Of Cree-Métis heritage, she lives in Vancouver, BC.
Other Books in "Picture Books"