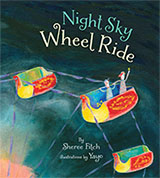 Night Sky Wheel Ride
French language rights sold to Quebec.
Rights sold to China.
About the Book
Sister and Brother
mothers and fathers and all
of the others
in the whole wide whirling
world!
We are fizzy with the dizzy
reeling,
fuzzy with the Ferris wheel
feeling!
Sheree Fitch's brilliant poetry and Yayo's vivid artwork light up the night sky in this wonderful picture book for kids young and old.
Praise for Night Sky Wheel Ride:
"A visit to the fairground turns into a wild romp through realms of the imagination." —starred review Quill and Quire
"Poem and pictures unite in a delirious celebration of a first ride on a Ferris wheel." —starred review Kirkus Reviews
"Fitch and Yayo capture the inherent magic of a carnival." — starred review Publishers Weekly 
Awards:
Winner of Prix Lux (Quebec) 2012
A Canadian Children's Book Centre Best Book of 2013
A 2013 White Raven book
Finalist for the Elizabeth Mrazik-Cleaver Award
About the Illustrator:
Yayo is the author and illustrator of many award-winning children's books. Originally from Colombia, he lives in Montreal, Quebec with his family.